Hotels in Evia Greece
If you are looking for quality accommodation for your holidays in Evia, then you'll find an excellent choice of hotels on the island.
Below you will find a selection of various hotels that are located around the island of Evia
Hotels in Evia
Hotels in Evia
Below you will find details about various hotels that operate in Evia. For more information about any of the hotel listings, simply click the button for more information.
Agnadi Hotel
The " Agnadi Hotel " is situated at the foot of a lovely green hill, right next to the sea. We are perfectly located for those looking for a relaxing stay in Evia.
More Information
Tel: ( + 30 ) 22270 71354 / 22270 71220
Mob: ( + 30 ) 6977 444645
---
Kentrikon Hotel
The Hotel Spa Kentrikon is the ideal location for a relaxing and rejuvenating holiday. The newly renovated Hotel and Spa offers the perfect location for your summer holidays or your weekend break.
More Information
Tel: ( + 30 ) 22260 22302 / 22260 22502
---
Blue Star Hotel
At the Blue Star Hotel in Amarynthos in Evia you will find an excellent selection of comfortable accommodation and a whole range of great facilities and services available.
More Information
Tel: ( + 30 ) 22290 38130
Mob: ( + 30 ) 6986 930094
---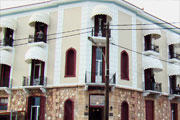 Istiaia Hotel
Istiaia Hotel operates throughout the year, and is perfectly located to offer you the best stay in Edipsos. As well as providing our guests with a charming selection of accommodation, offers also a range of spa therapies and treatments.
More Information
Tel: ( + 30 ) 22260 22309 / 22260 22049
---
Thalassa Hotel
Perfectly located in a prime position in Edipsos, our hotel offers all of the facilities that the modern traveller has come to expect, as well as a unique and hospitable service.
More Information
Tel: ( + 30 ) 22260 (60200 -60201 -6072
---
Omiros Luxury Hotel
The Omiros hotel is a new and charming boutique hotel, with a very special atmosphere and great care and attention paid to every detail, creating a comfortable and unique setting for our guests.
More Information
Tel: ( + 30 ) 22260 22978
Mob: ( + 30 ) 6938 434996
---
Advertise your Hotel in Evia
If you would like to find out how you can have your hotel listed on this page, simply click here.

Hotel Bookings

Evia Holidays